Merry Christmas 2016!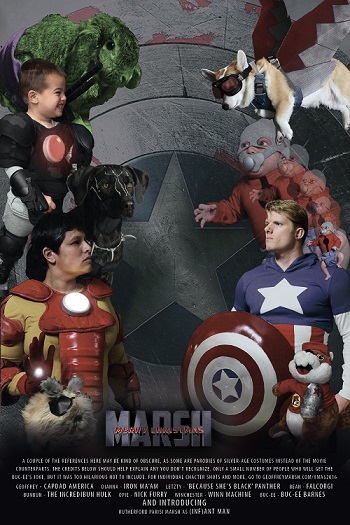 2016 has been a whirlwind of a year. Our previous card got sent a few months late in February, so you may already remember that the family relocated to Flushing, Michigan in January to start some exciting new jobs.
Geoff is now working as a web developer for Kettering University (a top-tier automotive engineering school in Flint, MI formerly a part of General Motors) in charge of designing and implementing new internal websites from the ground up. The combination of loving the company you work for and the work you do is just about all you can ask for.
Dianna is now working as the Cub Scout Camping Director for Michigan Crossroads Council. This means she oversees all Cub resident camps and outdoor adventures through the entire 'mitten' (the lower landmass of Michigan). The position is a great opportunity to really make an impact on scouting in the state and get more families involved and enjoying the benefits scouting has to offer.
Winchester started daycare this year, which was nerve-racking at first but he took to it immediately and we love the staff who take care of him. It's amazing to see the exponential growth the past year and all he's picked up from the staff and the other children.
The house we're currently renting backs right up to the Flint River, which has led to an enormous number of aquatic adventures this summer. Despite what you may have read, the Flint River is actually a gorgeous nature retreat. From reeling in walleye and rock bass in the back yard while watching deer and bald eagles to tubing, canoe, and kayak trips to general splashing and playing in the water, it's been the highlight of Michigan so far.
Geoff's automotive hobby has been in full swing lately with 5 motorcycle projects having cycled through this year. Additionally, we've officially joined the minivan life courtesy of our Honda Odyssey now sitting in the driveway. Good thing, too, as we've racked up over 200 hours of road tripping this summer to New York, Boston, and Pennsylvania to see friends and family. Our kids are quickly becoming iron-butt champions.
Other fun projects this year included a hand-hewn log bed for Winchester, an Arduino-powered dog food dispenser, 3d-printing and modeling, and picking up sewing and quilting skills from both our mothers.
All of these projects pale in comparison to the 'project' Dianna has been working on since February or so. After nine months of getting judo-kicked from the inside, she gave birth to our second son, Rutherford Parisi Marsh, on October 6. He is an absolute delight and just a laid back eating machine. Dianna has been enjoying her maternity leave and sadly will have to head back to work soon at which point Rutherford will get to hang out with his brother at daycare!