Merry Christmas 2014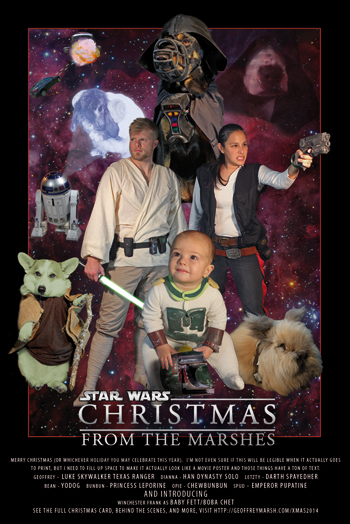 Since our son arrived on Star Wars Day this year (May the Fourth), it seemed only fitting to make it the theme of this year's Christmas card.
All in all, it was a pretty exciting year, if relatively low-key. Obviously the big event was the arrival of Winchester Frank Marsh in May, weighing in at 7lbs 11oz, and is now babbling, crawling, and trying to eat his left sock. Along with it came wonderful visits from Boston, Kansas, San Francisco, and even New Zealand! We had visits from parents, old friends, cousins, brothers, sisters, aunts, uncles (and even some fake/adopted aunts and uncles). It has been fantastic getting to see everyone.
When we weren't entertaining guests, we were often off visiting others! We made multiple family visits to Boston, New York, and even packed up a 2 month-old baby and both dogs to drive to see family at Harveys Lake, Pennsylvania. (Winn's first tenting adventure!)
Our foster dog Spud (the Emperor Pupatine in the background) got adopted to a wonderful family just before the baby came. We miss him dearly, and love seeing posts online of him being deservedly spoiled. In October again this year, we found another set of puppies, Emma and Mary Margaret (just two this time), and adopted them both out to a wonderful family with three small children who adore them.
Other than that, it's been a lot of "same old" around here. Dianna is still Program Director at Camp Karankawa (of which Winchester now holds the distinction of being the youngest staff member) and Geoff is still enjoying web development at Rice University. There has been lots of adventures around the homestead including house rewiring, rabbitry, hog hunting, beer brewing, building custom motorcycles, loads of dirty diapers and, of course, lots of family snuggling.
Till next year, Merry Christmas, Happy New Year, and may the Force be with you!