Merry Christmas 2013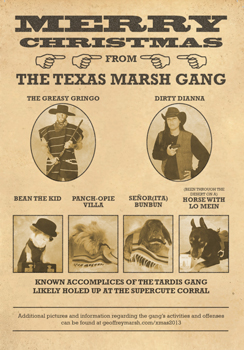 2013 was a very exciting year for the Marsh household, full of exciting changes. We have officially been in Texas for a full year now, Geoff working for Rice University as a web developer and Dianna as the Program/Camp Director for Camp Karankawa of the Bay Area Council.
In March, we took a week long trip out to Big Bend National Park in southern Texas with two of our good friends here. An amazing trip full of off-roading, hiking, hot-springs, horseback riding, and great food.
While Dianna was whipping her camp into shape, Geoff was busy whipping himself into shape this year with various 5ks, mountain bike races, and 3 sprint triathlons. Working at a University has the wonderful advantage of being able to go for a run or a bike ride or even a swim and be back by the end of the lunch break.
Soon after in May, after a few months of searching, we moved out of our temporary apartment in Lake Jackson and into a wonderful little house in the country. Our own 5 acres in Wild Peach Village, TX complete with a 6 bay garage (well...5 bays and a double-wide tractor bay, ha ha). Finally, plenty of room for dogs to roam and for keeping the Jeeps in out of the weather. The house was move-in ready (aside from some minor painting), but with lots of work to do cleaing up the property. Between a major poison oak infestation, overgrown rear pasture, and perpetually broken lawn tractor, there was never any shortage of work needing to be done.
It's been an exciting culinary year as well. Aside from the mandatory learning the Texan art of smoking and barbeque (even to the point of joining a team, the Half-Fast Cookers for a competition!), Geoff took up hunting this year not only cooking small game like Rabbit and Squirrel, but he also got his first ever deer this year! Everything from stews to steaks to sausage and even a *spectacular* venison roast for Christmas dinner.
Dianna had a very successful first year of her new job with summer camps, Native American Weekend, Fall Camp, Winter Camp, and plenty of other well attended events. She also got to attend National Jamboree at the brand new SSummit Bechtel Reserve High Adventure Base in West Virginia, while Geoff spent the week in PA for the annual Fourth of July family get-together!
We also spent a wonderful two weeks at Thanksgiving, first with Geoff's family in New York (we made the front page!) and then at Disney with the Parisis and our two adorable nieces, with plenty of snuggles, giggles, and roughhousing to be had.
This was a big year in terms of dogs, as well. Soon after moving down, we got involved with Scout's Honor Rescue in Houston and in addition to volunteering at adoption events and helping transport, we have also fostered two very sweet Rottweilers (Angus and Quincy) and are currently fostering a large cuddlebug Pitbull, Spud. The biggest canine event, however, was 6 pitbull puppies that Dianna found in a ditch by the side of the road in the rain. Poor pups were walking skeletons, half starved to death, and we originally were afraid they wouldn't make the night. But after plenty of food and love we got them back to health. A number of donations allowed us to provide them with vaccinations, spay/neuters, and all needed medical care. And a whole deal of emails, social networking, and experienced hands allowed us to get all 6 off to various rescue organizations around the country.
Most exciting this year, however, is the fact that we are expecting our very own Baby Marsh in May! We've been very lucky in that the pregnancy has been fairly easy (Dianna's Note: "According to whom?"), with minimal nausea and a strong healthy heartbeat. We won't know the gender for a few weeks yet, but we're starting to get very excited, nesting and preparing.
Till next year, Merry Christmas!