Merry Christmas 2012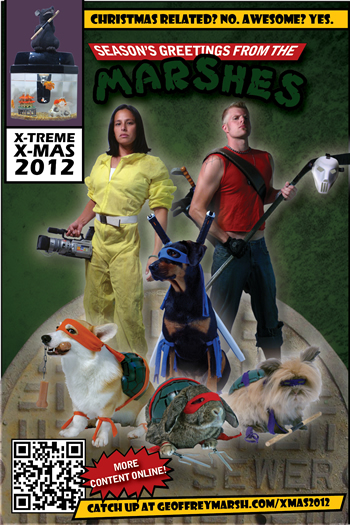 Merry Christmas/ Hanukkah/ Kwanza/ Festivus/ Solstice/ Commercial-overload Holiday Season from the Teenage Mutant Ninja Turtles!
2012 was a very kind year to us with lots of exciting developments and adventures. From time with Gamilee (Geoff's grandmother) in Marco Island, to scouting-related adventures in Philmont, NM and the National Order of the Arrow Conference, to various Jeeping/backpacking adventures throughout the White Mountains.
The highlight of our adventures, of course, has been our move to Texas!
This summer Dianna was offered a position as the Program Director for the Bay Area Council of the Boy Scouts in Galveston, TX. The changeover from the district side of things to program is an exciting opportunity that we had both been hoping for for quite some time.
So after a whirlwind few weeks of logistics, Labor Day weekend we drove Dianna down in a 26-hour straight shot. Geoff then flew back and spent the next three months living the bachelor life (as the "stuff" made it's way down to Texas shorly after!)
After 3 months of living apart Geoff and Letzty finally loaded up his almost-two decades old Jeep and set off on the 3,000 mile roadtrip towards the home they'd never known!
Most recently, Geoff has accepted a Web Developer position for Rice University in Houston. So with the family reunited and things getting back to normal, we are settling in nicely to our new life in Texas!