Merry Christmas 2011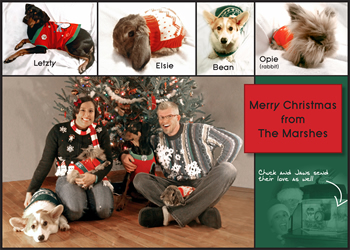 2011 was a great year. I am totally writing this in 2013 while checking Facebook for the cliff notes, but *trust me*, ha ha, it was awesome.
2011 was our first full year as a married couple and we fully enjoyed it! It was a big year for our hobbies, spending lots of time with the Jeeps (Dianna's 2010 Wrangler we bought right before the year began), the dogs (we got our adorable Pembroke Welsh Corgi, Bean, this year as well), and the bikes (in addition to the '84 Honda Shadow, Geoff also bought and fixed up an '85 Honda Rebel so we could ride together!). Pretty much a his-and-her everything!
Geoff also started a new position as a Web/Multimedia Designer at The Fletcher School of Tufts University. Short commute, casual dress code, nice office, wonderful co-workers and a beautiful campus made for a wonderful transition (though he did miss the wonderful team he had at MCPHS).
With plenty of hiking, canoeing, and backpacking trips the family kept busy on weekends having a grand time together!